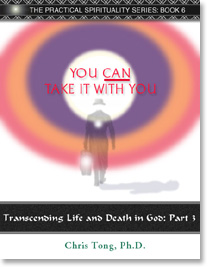 You CAN Take It With You:
Transcending Life and Death in God, Part 3
by Chris Tong, Ph.D.
Practical Spirituality Series, Book 6
78 pages
Publication Date: October 2000
ISBN: 0717354202
What can we take with us after we die? True wisdom takes into account both the fact of our mortality and what we are likely to carry with us after death, and uses the course of a lifetime proactively, for the purpose of understanding our limits, and linking up now with That which is greater than life and death.
We focus on three key issues of the after-life, and the means for addressing these issues: psychic attractors, which have the power to draw us out of the Presence of God after death; psychic bullies, from which we are constantly on the run while alive, and which can form the stuff of "hells" after death; and our nonrecognition of all that arises after death as our own mind-forms (as in a dream). In the Spiritual practice we describe, psychic attractors are outshined by Divine Distraction; psychic bullies are "stood up to" and disempowered by unlimited feeling; and the nonrecognition of conditional reality as a dream is dealt with by progressive Waking Up, first by absorption in God, and then by identification with God.
Online Price:
$5.00 eBook (PDF)
To order, click here
---
You may also be interested in these related titles:
---