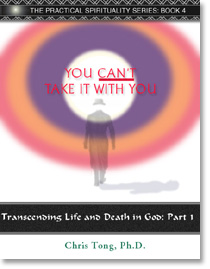 Editorial Reviews

From the publishers:

Neither money, property nor prestige will follow you to the afterlife, but you can take riches in the form of love, says Chris Tong in Transcending Life and Death in God. His spirituality series for MightyWords continues with this essay on connecting with God to get honest about your life and death.
Spirituality Editor
Fatbrain
You CAN'T Take It With You:
Transcending Life and Death in God, Part 1
by Chris Tong, Ph.D.
Practical Spirituality Series, Book 4
45 pages
Date Published: July 2000
ISBN: 0717354245
Most people who haven't had a death of someone very close to them don't realize that it never goes away. They talk about nonsensical things like "closure" and "healing", but what people are coming to realize is that when someone close to you dies, one of the stars you steer by falls from the firmament. If 9/11 has taught us anything, it is about the continuity of loss, and how things are always different after death.
Sherwin Nuland, M.D.
How We Die: Reflections on Life's Final Chapter
Does your life have a purpose? If so, is it one that isn't going to get instantly ripped off when you die? Many of us spend our lives denying death, allowing ourselves to be completely consumed and distracted by our responsibilities, our indulgences, and our search for things we cannot take with us after death in any overt form (knowledge, accomplishment, fame, or friendship). But death is still coming. We get little support from culture, society, biology, or even conventional religion for becoming adequately prepared; indeed, we are actively discouraged from even considering the matter. In Western society, the "dying business" at best tends to help us come to the point of acceptance of death (which already should be true for us right now). And the "death business" tends to assist the living go on living rather than assist the dead in their transition, as more informed cultures do. This book sensitizes us to our mortality, and encourages us to start preparing now (see the next book for Part 2).
Online Price:
$5.00 eBook (PDF)
To order, click here
---
You may also be interested in these related titles:
---